IMPROVE ASTHMA & COPD CONDITION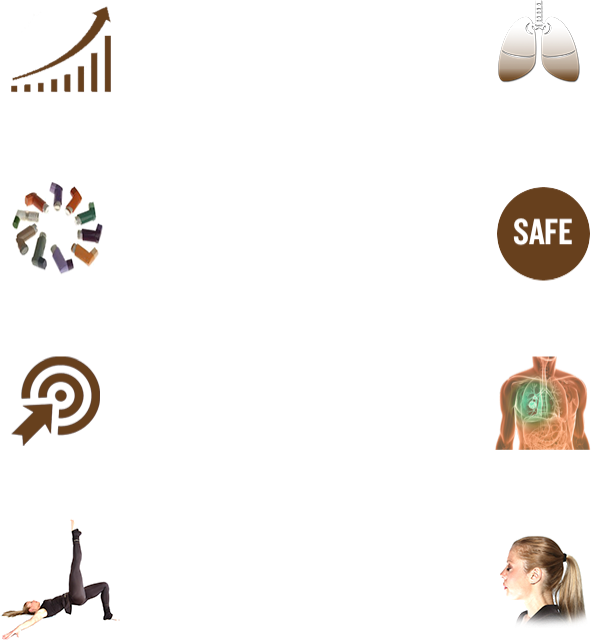 Nirvana® workouts in combination with action plan prescribed by physician, gives you a powerful weapon
against asthma & COPD. Ability to control breathing
empowers you to feel more confident & secure.
REDUCE EXCESSIVE MEDICATION
Reduce excessive use of potentially harmfull
medication by significantly reducing number of asthma
attacks by breathing deeper & slower.
CONTROL & RELIEVE ASTHMA ATTACKS
Slow down breathing at will and through daily training
quickly recall calm, slow & deep breathing when asthma attacks happen. A potentially life saving ability in case of an asthma attack without relieve medication at hand.
WHOLE BODY TONING & EXTRA ENERGY
Music, movement & breathing, all executed in one continous rhythmic flow, producing feeling of calm mind while toning up the whole body and charging you with extra new energy.
We need to breathe more slowly and deeply.
Nirvana® uses Pursed Lip Breathing technique with prolonged exhalation in order to deepen breathing,
to boost oxygenation of every cell in your body.
Nirvana® is limiting the possibility of an exercise x asthma attack by efficiently employing relax centers and calming the body & mind.
4/5 asthmatics severely limit their physical activities.
Nirvana® Respiratory therapy is a system that will teach you how to breathe correctly, leading you to a slower and deeper daily breathing pattern (diaphragmatic with prolonged exhalation)
Conscious breathing qualifies as a top quality meditation, focusing your mind on breathing and your own body through pilates/yoga style movement flow. This creates mind calming, like nirvana state of mind effect.